APCTP-IACS-SNBNCBS Workshop on Computational Methods for Emergent Quantum Matter: From Theoretical Concepts to Experimental Realization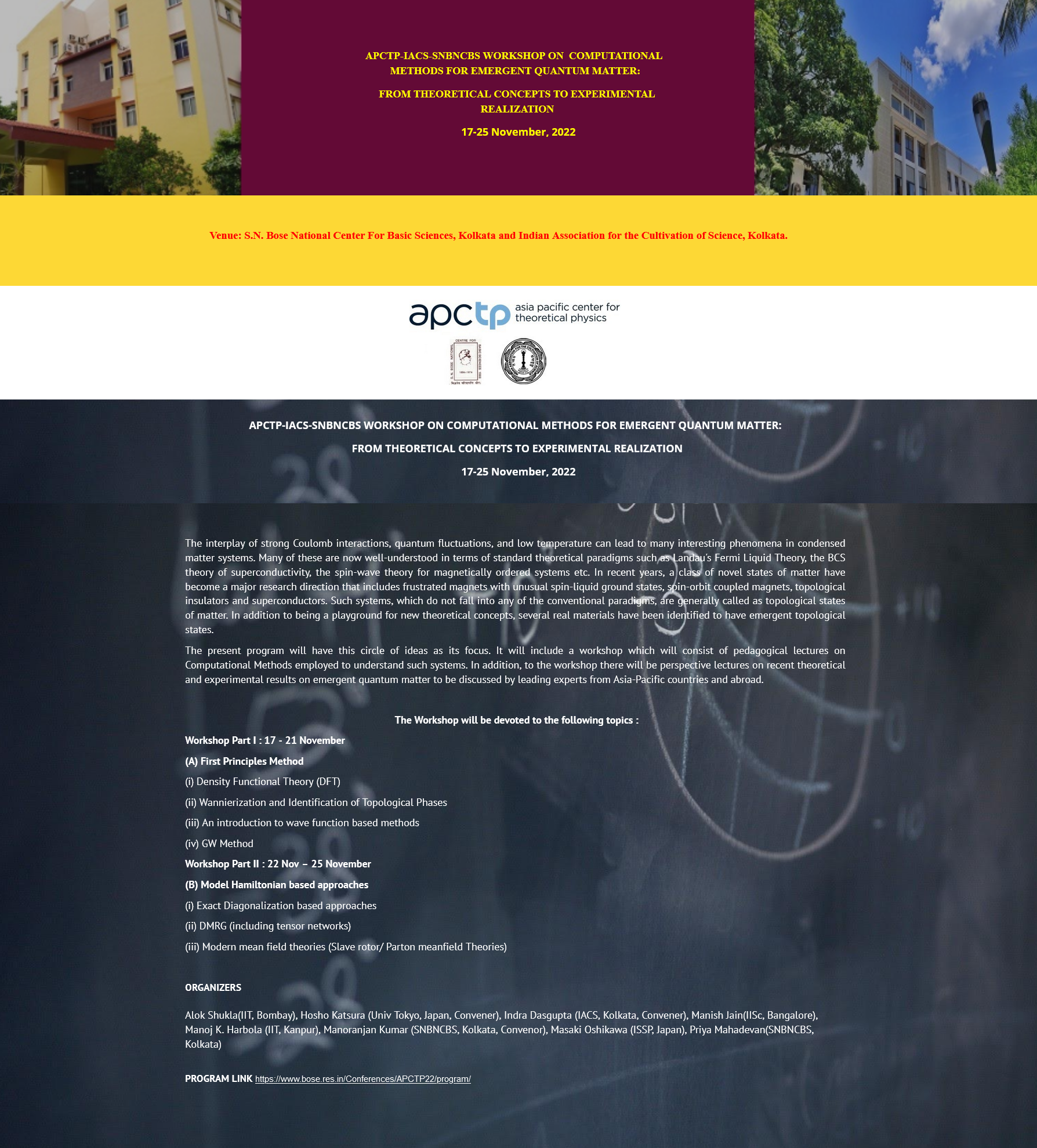 Alok Shukla(IIT, Bombay), Hosho Katsura (Univ Tokyo, Japan, Convener), Indra Dasgupta (IACS, Kolkata, Convener), Manish Jain(IISc, Bangalore), Manoj K. Harbola (IIT, Kanpur), Manoranjan Kumar (SNBNCBS, Kolkata, Convenor), Masaki Oshikawa (ISSP, Japan), Priya Mahadevan(SNBNCBS, Kolkata)
17 November 2022

to

25 November 2022
The interplay of strong Coulomb interactions, quantum fluctuations, and low temperature can lead to many interesting phenomena in condensed matter systems. Many of these are now well-understood in terms of standard theoretical paradigms such as Landau's Fermi Liquid Theory, the BCS theory of superconductivity, the spin-wave theory for magnetically ordered systems etc. In recent years, a class of novel states of matter have become a major research direction that includes frustrated magnets with unusual spin-liquid ground states, spin-orbit coupled magnets, topological insulators and superconductors. Such systems, which do not fall into any of the conventional paradigms, are generally called as topological states of matter. In addition to being a playground for new theoretical concepts, several real materials have been identified to have emergent topological states.
The present program will have this circle of ideas as its focus. It will include a workshop which will consist of pedagogical lectures on Computational Methods employed to understand such systems. In addition, to the workshop there will be perspective lectures on recent theoretical and experimental results on emergent quantum matter to be discussed by leading experts from Asia-Pacific countries and abroad.
The Workshop will be held both in online and in-person and is intended for Advanced Graduate students, Young Post-docs and early career faculty members from Asia Pacific Countries. Local hospitality and partial travel will be covered for all in-person participants.
The Workshop will be devoted to the following topics.
Workshop Part I : 17 - 21 November
(A) First Principles Method
(i) Density Functional Theory (DFT)
(ii) Wannierization and Identification of Topological Phases
(iii) An introduction to wave function based methods
(iv) GW Method
Workshop Part II : 22 Nov – 25 November
(B) Model Hamiltonian based approaches
(i) Exact Diagonalization based approaches
(ii) DMRG (including tensor networks)
(iii) Modern mean field theories (Slave rotor/ Parton meanfield Theories)
Participants are requested to register online : Registration Link
Registration Deadline : Foreign Participants - 26.08.2022
Registration Deadline : Indian Participants - 31-08-2022
Registration Deadline ( only for online participation): 16-11-2022